Staff – Research Fellow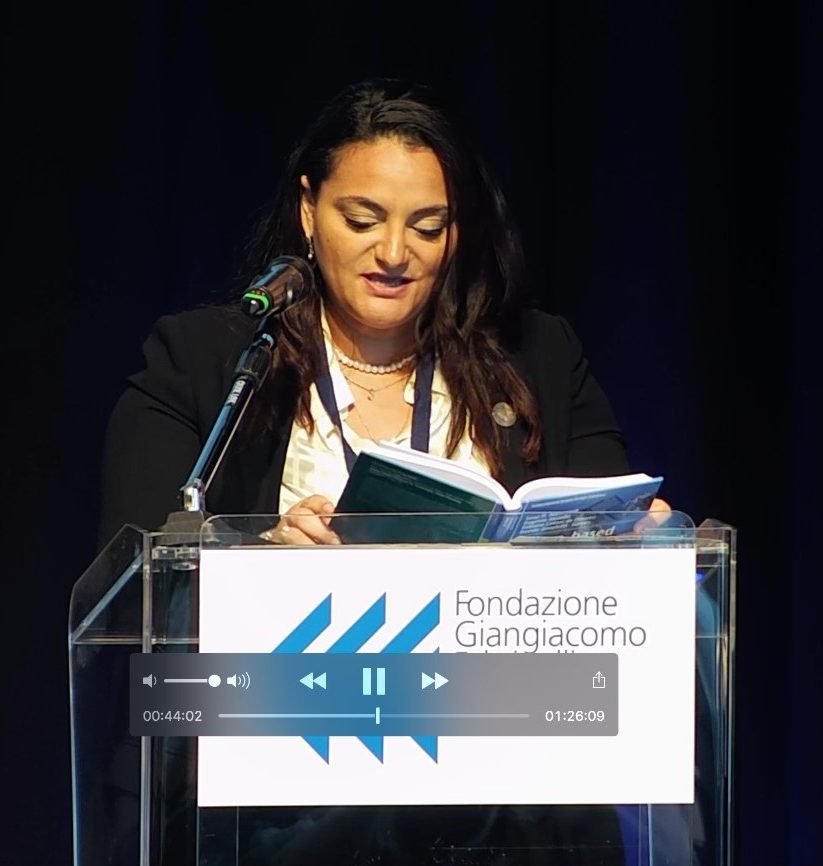 Israa is a Polyglot urban planner and architect, she speaks English, Italian, French Fluently and Arabic is her mother tongue. She holds a Ph.D. in "Sociability of Public spaces and Placemaking approach as key drivers for Cultural-Based Urban Regeneration processes." Learning case study: Northend Park, Rose Kennedy Green Way, Boston Massachusetts, USA." She is passionate about Public Spaces and their value in our everyday lives.
She earned her bachelor's degree from Architectural Engineering Dept. Alexandria University of Egypt with a major on Urban Design. Whereas, she was teaching as an assistant lecturer for four years and leading students' groups as an academic adviser. After earning her MSc degree in 2013 with a 3.97 CGPA about psychological and environmental urban design, in a collaboration program with Michigan state University and Bauhaus-Universität Weimar, Germany, she was invited in 2014 as distinguished junior academic member to Manchester University in Uk to audit a Summer School on sustainable urbanism. In 2015, she started her PhD in Urban Regeneration and Economic Development in Mediterranean University of Reggio Calabria, Italy whereas she was invited to UN-Habitat Future of Places Conference in Stockholm to speak on her public spaces research. Later, in 2016 she pursued her PhD graduate courses in Northeastern University of Boston MA, with a 3.67 CGPA. Starting 2017, she took part of an European Commission – MARIE-CURIE Action funded Horizon 2020  Project  – GA # 645651 – MAPS-LED Project as an (ESR) early stage researcher where she studied "public spaces and their social innovation relationship with cultural Districts" in San Diego state University, CA, USA.
Now she is the research team leader together with Prof. Eugenio Morello on CLEVER Cities Project – Funded by the European Commission – Horizon 2020 Funded Project – GA#776604 as an expert of Co-creation guidance for cities to implement Nature-based solutions in socially inclusive urban regeneration processes.  She lectures about Nature-based solutions in Master of Science in Urban Planning and Policy Design, Leonardo campus; as well as Master of Sustainable architecture and Landscape design, Piacenza campus. 

Lastly, she co-leaded the Greening Cities, Shaping Cities international symposium  with Eugenio Morello in Politecnico di Milano, October 2020. As scientific dissemination from the symposium, she also co-leads a special issue on Sustainability journal, see https://www.mdpi.com/journal/sustainability/special_issues/greening_cities 
In addition to a series of Seminars on Nature-based solutions at DAStU, Polimi https://www.dastu.polimi.it/nature-as-a-stakeholder-in-urban-planning/ 
She, also, works as a reviewer for specialized scientific journals on urban planning such as Climate Services, Ambio, Sustainability section on urban planning, Common Ground on urban and extra urban studies, Cogent series of social science, arts and Humanities in USA and 'Territorio' in Italy. Meantime, supervises several Masters and Doctoral students thesis research on Nature-based solutions and implementation case studies in urban and metropolitan areas. 
On LinkedIN 
On Researchgate 
On ORCID (ORCID # 0000-0003-0161-6096)
On CLEVER Cities EU- Scientific Publications page 
---
Recent Publications
" Mahmoud et.al (2022). Nature-based Solutions for Sustainable Urban Planning: Greening Cities, Shaping Cities. In Contemporary urban design thinking, springer Nature book series-  https://doi.org/10.1007/978-3-030-89525-9
Frantzeskaki N., Mahmoud I.H., Morello E. (2022) Nature-Based Solutions for Resilient and Thriving Cities: Opportunities and Challenges for Planning Future Cities. In: Mahmoud I.H., Morello E., Lemes de Oliveira F., Geneletti D. (eds) Nature-based Solutions for Sustainable Urban Planning. Contemporary Urban Design Thinking. Springer, Cham. https://doi.org/10.1007/978-3-030-89525-9_1 
Hosseinalizadeh S., Mahmoud I.H., Morello E. (2022) A Deduced Method for Assessing Safety and Security Perception: Case Study of Biblioteca Degli Alberi Park in Milan, Italy. In: Mahmoud I.H., Morello E., Lemes de Oliveira F., Geneletti D. (eds) Nature-based Solutions for Sustainable Urban Planning. Contemporary Urban Design Thinking. Springer, Cham. https://doi.org/10.1007/978-3-030-89525-9_8 
Vona C, Mahmoud I, Benciolini M, et al (2021) Il coinvolgimento dei
cittadini per la biodiversità urbana attraverso le NBS: l'esperienza CLEVER Cities. Reticula 95–107 . Accessed at 
https://re.public.polimi.it/retrieve/handle/11311/1194289/681039/CLEVER-reticula-28.pdf
Mahmoud, I., (2021). Nature-Based Solutions: The Holy Grail of Green Urbanism. In Eco-Urbanism and Nature-Based Solutions Conference proceedings Pp 28-45, 18-19 October 2021. Dubai, UAE.  https://attachments.waset.org/21/ebooks/october-2021-in-dubai-2021-10-13-12-29-37.pdf
Mahmoud, I.H. Morello, E., Salvia, G., Ludlow, D., (2021). Co-creation pathways to inform shared governance of Urban Living Labs in practice: Lessons from three European projects. Journal of Frontiers in Sustainable Cities – "section of Governance and Cities".  DOI: 3389/frsc.2021.690458 https://doi.org/10.3389/frsc.2021.690458
Mahmoud, I.H., Morello E, Vona C, et al (2021) Setting the Social Monitoring Framework for Nature-Based Solutions Impact: Methodological Approach and Pre-Greening Measurements in the Case Study from CLEVER Cities Milan. Sustainability 13(17), 9672; https://doi.org/10.3390/su13179672
Boros J. and Mahmoud I., (2021) Urban Design and the Role of Placemaking in Mainstreaming Nature-Based Solutions . Learning From the Biblioteca Degli Alberi Case Study in Milan. Front Sustain Cities 3:1–13 https://doi.org/10.3389/frsc.2021.635610
Castaldo A.G., Mahmoud I., Morello E. (2021) Ecosystem-Based Adaptation Approach and Adaptation Planning Support Tools: Potential Implementation for the Urban Context. In: La Rosa D., Privitera R. (eds) Innovation in Urban and Regional Planning. INPUT 2021. Lecture Notes in Civil Engineering, vol 146. Springer, Cham. https://doi.org/10.1007/978-3-030-68824-0_3 
Mahmoud I., Morello E. (2021) "Co-creation Pathway for Urban Nature-Based Solutions: Testing a Shared-Governance Approach in Three Cities and Nine Action Labs. In: Bisello A., Vettorato D., Ludlow D., Baranzelli C. (eds) Smart and Sustainable Planning for Cities and Regions. SSPCR 2019. Green Energy and Technology. Springer, Cham. https://doi.org/10.1007/978-3-030-57764-3_17 
Skodra, J., Tacnet, J.-M.; Van Cauwenbergh, N., ….Mahmoud, I., et al. (2021). " Principles guiding NBS performance and impact evaluation". In, Dumitru, A. and Wendling, L. (Eds.). 2021. Evaluating the Impact of Nature-based Solutions: A Handbook for Practitioners. Luxembourg: Publications Office of the European Union. https://op.europa.eu/s/o94r – DOI: 10.2777/244577
Abbasishekar, M., Mahmoud, I., Morello, E. (2020). The Green Breath of the City: A Dynamic Approach for Air Purification through NbS in the City of Milan, Italy. In J.Rodríguez Álvarez & J.C. Soares Gonçalves (Eds.) (2020). Planning Post Carbon Cities. Proceedings of the 35th PLEA Conference on Passive and Low Energy Architecture. A Coruña: University of A Coruña. Vol 3: Pp. 1430-1435. DOI https://lnkd.in/ehAVFZj
Mahmoud I. and Morello E. (2020), "Are Nature-based solutions the answer to urban sustainability dilemma? The case of CLEVER Cities CALs within the Milanese urban context.", Atti della XXII Conferenza Nazionale SIU. L'Urbanistica italiana di fronte all'Agenda 2030. Portare territori e comunità sulla strada della sostenibilità e della resilienza, Matera-Bari 5-6-7 giugno 2019, Planum Publisher, Roma-Milano, pp. 1322-1327.
Watch my latest conference presentation at #UNHABITAT
Watch the new Youtube video on Co-creation guidance of CLEVER Cities!
Scientific CV